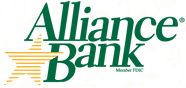 eStatements
Save a tree! Sign up for eStatements!
Did you know that your monthly account statement can be viewed through Alliance Bank's online banking system. Each month, your statement will be securely waiting for you after you log in.
Summary

more secure than USPS delivery

convenient

easy to save and file for use at tax time

save paper

can only be retrieved from within Online Banking

If you don't have Online Banking, you can enroll from the login area on our homepage.

If you have any questions about your statement, please call us at 1-877-903-BANK(2265).

Directions

To turn on your estatements:

Login (on your PC) to your account at www.alliancebank.com

Click on "User Options", then "Online Statement Options"

Click "Waive the mailing of your monthly paper statement"

Submit your changes

FAQ

Q. What is an e-statement?

A. An image of each page of your current statement is sent to you via online banking. You can view it on your screen, save it to your computer for later reference, and print it if/when you are ready to.

Q. How do they work?

A. Each month, you will log in to online banking via www.alliancebank.com where your statement will be patiently waiting for you to retrieve it.

Q. How are e-statements more secure?

A. In order to access your e-statement, you must log into online banking with your personal log in ID and password. No one will be able to see your account information without your permission. E-statements eliminate the opportunity for prying eyes to sneak a peak at your account information.